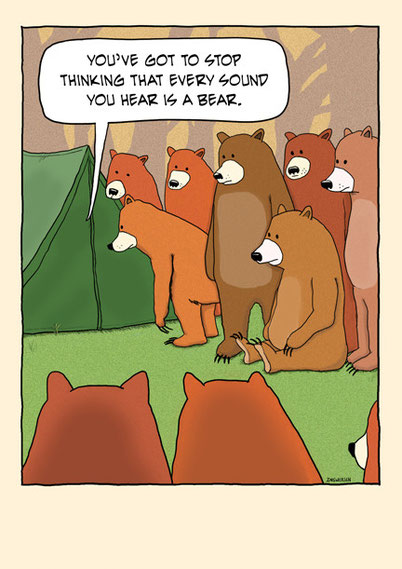 I've been told that the greeting card pictured above has been a big seller for Hallmark's Shoebox line. After all, who doesn't like bears? (Answer: Anyone coming face to face with one in the woods, and anyone who has discovered that one was recently in the house and found the glazed ham in the kitchen.)
Below is another bear-based card I did for Shoebox. You can't go to the "Does a bear $#!% in the woods" trope too many times, can you? I certainly can't.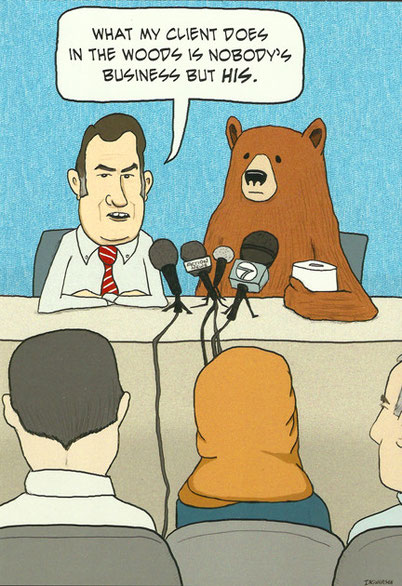 Hallmark/Shoebox bought a third bear-based card of mine late last year, but it hasn't hit stores yet. I'll post it here when it does. Let's just say it compares having a birthday with being mauled by a bear.
I've increased my bear cartoon output recently on Captain Scratchy, having introduced Kevin and his pooch pal, Mr. Higgins, around the 4th of July. Kevin and Mr. Higgins are fun to write for, as the best cartoon characters tend to be. Kevin comes across as being surprisingly level-headed for a bear, but you get the feeling that you don't want to push him too far. That's probably a good policy with any bear.
Fireworks are one thing, but what really rubs Kevin's fur the wrong way is when campers throw shoes at him (unless they're particularly stylish shoes in his size).
Expect to see plenty more of Kevin on Captain Scratchy.