Today, a little history about Captain Scratchy, my webcomic site, which I update with fresh cartoons each Monday, Wednesday and Friday.
"The Captain," as it's known by absolutely no one, set sail on July 1, 2009. I introduced it as a character-based comic strip featuring Rick (cat) and Rufus (dog). A cat-dog comic! Original!
Below is the first-ever Captain Scratchy entry.

Looking at this in retrospect, I see too much "Tom and Jerry" for my liking. I soon decided I didn't want Rick to be cruel to lovable Rufus, so I began developing a warmer relationship between the two.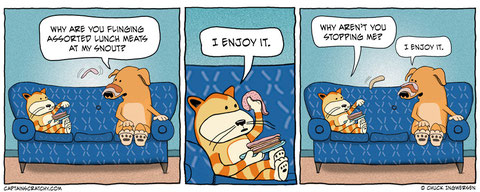 In order to branch out from the cat and dog trope, I soon began incorporating other regular characters, including Angry Horse and his wee pal, Little Horse.

Here's the first time the aptly named "Chicken" popped up.

Jeff the Lethargic Beaver joined the crew several months into Captain Scratchy. His look has changed throughout the years, but his love for cocktails has remained a constant.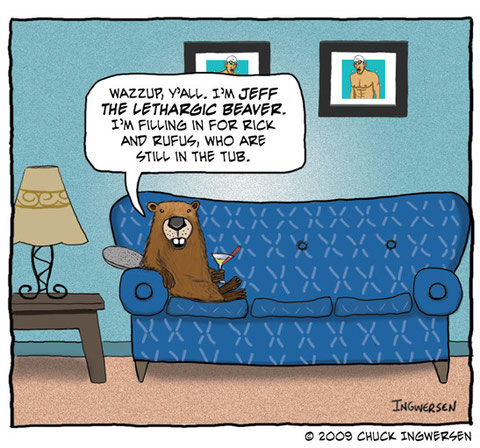 Next time, I'll explain why Captain Scratchy eventually evolved from a character-driven comic to primarily stand-alone cartoons.