In my previous post I touched on the early days of Captain Scratchy and how it began as a character-based comic strip, featuring Rick (the cat) and Rufus (the dog) and their pals. I was posting new comics Monday through Friday, most of them being multiple-panel strips. It wasn't unusual for me to go eight panels long, as I did with this one:

As I began to take on more freelance work — primarily as a greeting card writer/artist — I realized I couldn't sustain the 5-day-a-week schedule I'd started with Captain Scratchy. A little more than a month after start-up, I scaled down to 3 days a week.
The next significant change for Captain Scratchy came in April of 2010, when I decided to shift the focus from the regular characters to more random cartoons. This was the first one I posted in the "remodeled" Captain Scratchy: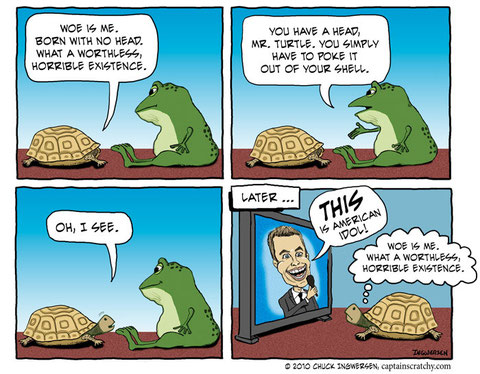 My reason for the change was to force myself to focus on random, stand-alone cartoons — ones that even a first-time visitor to the site could appreciate (in theory, of course). A benefit to this new approach was that I could improve my skills at stand-alone cartooning and single-panel gags, which could translate into the other avenues of freelance work I was pursuing (greeting cards, magazines, various websites).
As much as I enjoyed this less restrictive format, the original Captain Scratchy characters kept tugging at my sleeve (which made it difficult to draw). I had to assure them that I'd bring them back from time to time, but not all of them were buying it: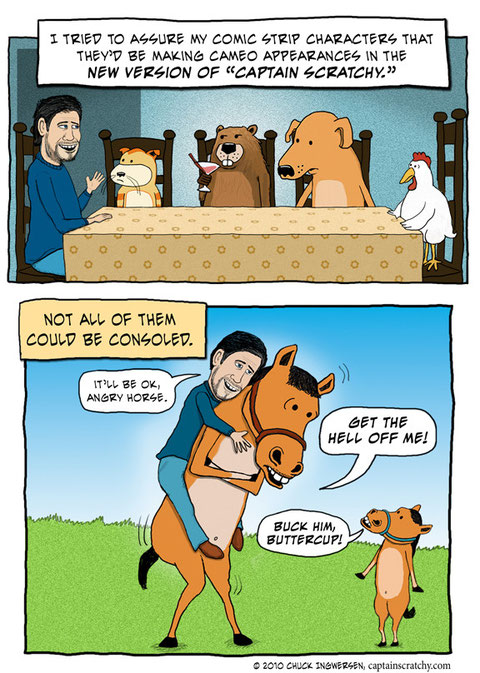 Next time: The former stars of Captain Scratchy learn to accept the new format.